The Grey Cup Festival runs from Nov. 13 to 19

 and features more than 40 events. James Street North will be closed for Fan Central, a free interactive event hub.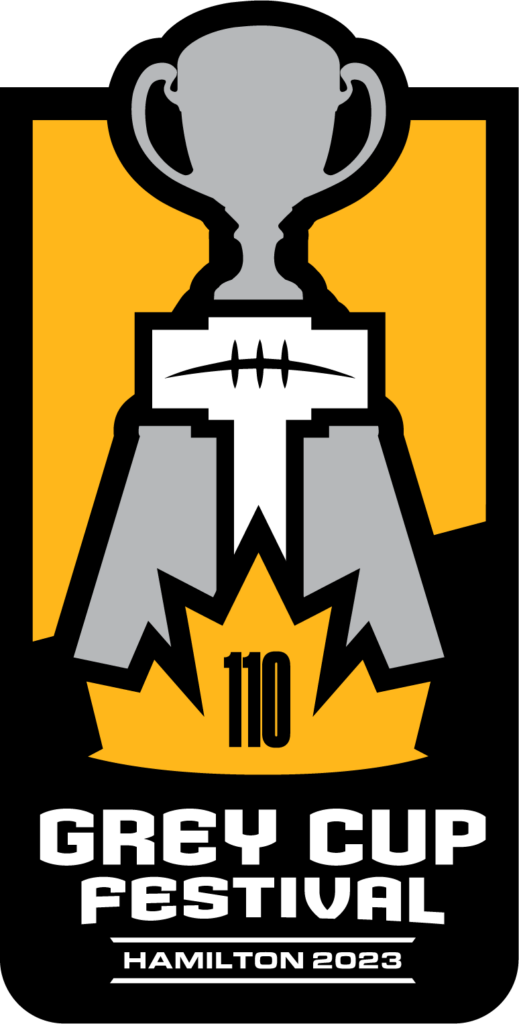 The 110th Grey Cup is coming back to Tim Hortons Field in Hamilton!
Excitement is building for Canada's largest single-day sporting event with kickoff at 6 p.m.
on Sunday, Nov. 19.
Leading up to the game, the 2023 Grey Cup Festival will combine football, music and
culture in a quintessentially Hamilton experience. 
The festival will run from Nov. 13 to 19 and includes more than 40 – mostly free! – events
at venues largely centred in downtown Hamilton. Doesn't matter if you're a football fan, a music lover, or looking for something for kids, there will be something for you!
See below for everything you need to know!
Click here to read all about the Built in the Hammer Grey Cup Music Festival!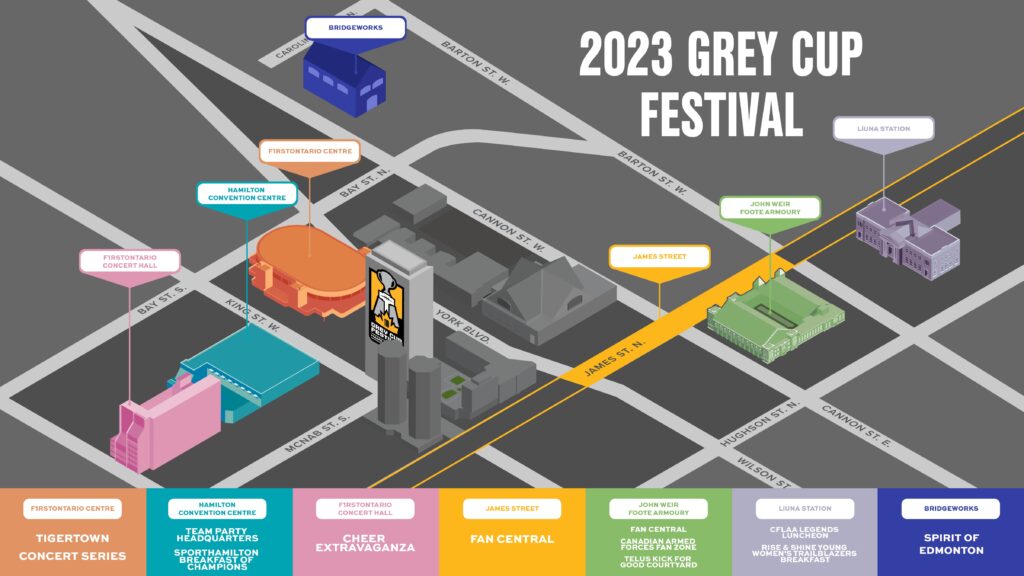 Fan Central – James Street
The main hub of the festival is Fan Central, a free interactive area for fans on James Street North that will be chock full of things to see and do, all with a Grey Cup theme.
From Thursday, Nov. 16 through Saturday, Nov. 18 from 11 a.m. to 8 p.m. each day, fans can stroll down James Street and experience Hamilton's great food, art, culture, and music scene.
Produced by Supercrawl, Hamilton's famous arts and indie music festival, it will showcase the best of what makes this city a dynamic place.
Don't miss:
A main festival stage on James Street that will feature local Hamilton talent throughout the day and showcase the diverse music scene of the greater Hamilton area.
A beer garden near the main stage
Hamilton's best food trucks
Inflatables and iconic Grey Cup signage
Hamilton's traditional Christmas Market
Giveaways, games and activities throughout the street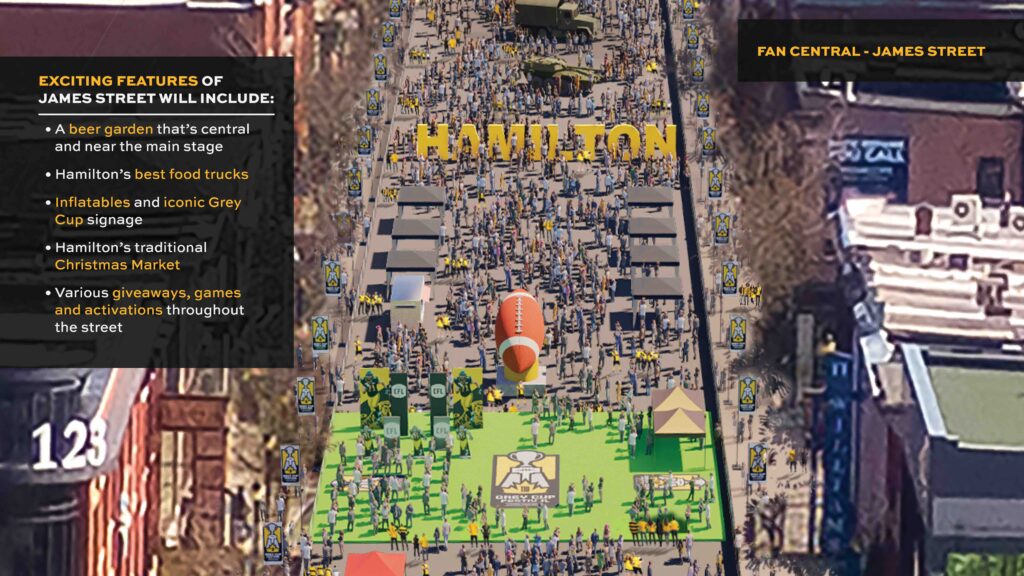 Fan Central: Canadian Armed Forces Fan Zone
Take advantage of an unprecedented opportunity to get inside the John Weir Foote Armoury, a historic and signature Hamilton venue, for the Canadian Armed Forces Fan Zone that will feature free activities for all ages. Highlights include:
The Media Centre – a daily feature with players, coaches, broadcast personalities and special guests providing information about the CFL and the Grey Cup.
A specially constructed 35-yard turf football field inside the Armoury that will be complete with stands and a scoreboard. Check out the three-day, five-on-five Hamilton Flag Football Classic, an exciting multi-day youth tournament hosted by Football Ontario.
The Canadian Football Hall of Fame display that will highlight the rich history of Canadian football.
The Canadian Armed Forces Obstacle Course that will test the skills and abilities of those who are brave enough to try it.
Fan Central: TELUS Kick for Good Courtyard
Right beside the Canadian Armed Forces Fan Zone, the TELUS Kick for Good Courtyard will offer fans the chance to showcase their kicking prowess to win exclusive prizes.
There are plenty of other free Grey Cup Festival events:
COMMUNITY RACE TO THE CUP PRESENTED BY FIRSTONTARIO
Thursday, Nov. 16, 10:30 a.m. to 12 p.m.: In partnership with Around the Bay Road Race, Hamilton-Wentworth District School Board, and Hamilton-Wentworth Catholic District School Board, this event will promote health and fitness for 2,000 students. The Race will be one kilometre in distance – from Gage Park to Tim Hortons Field (area outside of South Plaza) – for all participating students.
SIRIUSXM KICKOFF PARTY
Thursday, Nov. 16, 4:30 p.m. to 8 p.m.: Free street party for fans to kick off the Grey Cup Festival week. Live performances by the Royal Canadian Air Force Band, Nobro, and headlined by The Dirty Nil, and cheer performances.
CALGARY GREY CUP COMMITTEE PANCAKE BREAKFAST
Friday, Nov. 17 and Saturday, Nov. 18, 11 a.m. to 1 p.m.: Experience a genuine Calgary Stampede breakfast without actually going to Stampede! The Calgary Grey Cup Committee will be hosting a free breakfast at Fan Central on James Street North.
THE HAMILTON SANTA CLAUS AND GREY CUP PARADE
Saturday, Nov. 18, 11 a.m. to 1 p.m.: The annual Hamilton Santa Claus Parade will take place in downtown Hamilton in the heart of the 2023 Grey Cup Festival. This year, there will be a football twist with the addition of CFL cheer teams and the Grey Cup trophy in attendance. Festival-themed giveaways will happen throughout the parade!
Grey Cup Festival ticketed events (tickets available here):
SPORTHAMILTON BREAKFAST OF CHAMPIONS PRESENTED BY STELCO
Tuesday, Nov. 14, 8:15 a.m. to 11 a.m.: In partnership with the 2023 Grey Cup Festival, SportHamilton will recognize Hamilton-area athletes, teams, and coaches who have accomplished high athletic success in the 2023 season.
YWCA HAMILTON RISE & SHINE YOUNG TRAILBLAZERS BREAKFAST
Thursday, Nov. 16, 8 a.m. to 12 p.m.: In partnership with the 2023 Grey Cup Festival, YWCA Hamilton, the Hamilton-Wentworth District School Board, and Hamilton-Wentworth Catholic District School Board will welcome youth from across the region for a morning of empowerment and engagement unlike any other.
TEAM PARTY HEADQUARTERS
Thursday, Nov. 16 to 18, 4 p.m. to 1 a.m.: The Team Party Headquarters, located at Hamilton Convention Centre, will feature Tigertown, the Eastern Social Hall (Toronto, Montreal, Ottawa, Hamilton), Riderville, the Atlantic Schooners, Lions Den, Stamps House, and Bomber House team parties. A three-day pass to all the parties, plus food, drinks, live entertainment, games and more, is $109.
2023 CFL AWARDS
Thursday, Nov. 16, 6 p.m. to 9 p.m.: The Canadian Football League's most coveted hardware – apart from the iconic Grey Cup trophy itself — will be handed out on at Fallsview Casino in Niagara Falls. The awards show will take place in the intimate Avalon Theatre and feature enhanced entertainment and hospitality. Comedian K. Trevor Wilson will be co-hosting the CFL Awards alongside Kate Beirness, the host of the CFL on TSN. Following the show, event guests will be welcomed at the state-of-the-art OLG Stage for a live concert by reggae star Shaggy. Tickets are available for the awards and concert or just the concert.
CFL ALUMNI ASSOCIATION LEGENDS LUNCHEON PRESENTED BY CARSTAR
Friday, Nov. 17, 11 a.m. to 2 p.m.: Meet CFL Alumni in this memorable, up-close-and-personal experience over a provided lunch that includes a silent and live auction. The CFL Alumnus of the Year and Indigenous Champion Award will be presented at this event. Proceeds from this ticketed event go to the CFL Alumni Support Fund.
FAN STATE OF THE LEAGUE
Friday, Nov. 17, 10 a.m. to 11 a.m.: Fans will have an up-close-and-personal encounter with CFL commissioner Randy Ambrosie who will share his thoughts on the current state of the league. As part of the event, fans will be able to ask questions and share their suggestions on the league's activities and future direction.
SPONSORSHIPX ACADEMY
Friday, Nov. 17, 8 a.m. to 3 p.m.: SponsorshipX Academy is educational experience with content curated to accelerate professional development for sponsorship marketing professionals. Located at Tim Hortons Field, the event will provide participants an opportunity to have a sneak peek into the site of the 110th Grey Cup the day before the big game.
SPIRIT OF EDMONTON
Saturday, Nov. 18, 8 a.m.: Spirit of Edmonton Grey Cup breakfast has been one of the premier events at every Grey Cup for 49 years. The breakfast will take place at Michelangelo Banquet Centre. It will include northern Alberta hospitality, live music, dance teams, pipe bands, cheer teams, a full buffet breakfast and of course, the famous Sluice Juice! Guests are encouraged to wear their team colours or favourite crazy outfits.
Nov. 16-18, 4 p.m. to 1 a.m.: Spirit of Edmonton is setting up for nightly live entertainment at Bridgeworks, 200 Caroline St. N. A limited number of VIP passes are available.
ATHLETES IN ACTION GREY CUP BREAKFAST
Saturday, Nov. 18, 8 a.m to 10:15 a.m: During the Athletes in Action Grey Cup Breakfast, football fans, friends, and family are given the opportunity to hear from some of the CFL's most influential athletes, coaches, and wives, both past and present. These men and women give us a glimpse into their lives and share about the role their faith has played in creating success and handling their failures.
CHEER EXTRAVAGANZA
Saturday, Nov. 18, 3 p.m. to 5 p.m.: Cheer loud and proud at this family-friendly event that is sure to get the entire family ready for the 110th Grey Cup! Feel the energy of your favourite CFL dance and cheer teams and enjoy talent from across Hamilton and the Greater Toronto Area. Meet the performers, collect autographs and snap pictures with CFL cheer teams after the event during an exclusive meet-and-greet.
CARETAKER'S GAMEDAY WARMUP HOSTED BY TIGERTOWN COUNCIL
Sunday, Nov. 19, 2 p.m. to 6 p.m.: The Caretaker's Gameday Warmup Hosted by TigerTown Council at the Bernie Morelli Recreation Centre will feature fun-packed hours before the 110th Grey Cup game. Warm up before the big game and cheer on the best teams in the league in this pre-game celebration.
NEIGHBOURHOOD BLOCK PARTY
Sunday, Nov. 19, 2 p.m. to 5 p.m.: CFL fans will unite for this traditional outdoor tailgate party, free for 110th Grey Cup ticket holders. The tailgate will offer live entertainment and food and beverage to help get fans warmed up to celebrate the 110th Grey Cup game. Running to just before kickoff, the party is free to attend for anyone with a ticket to the 110th Grey Cup game and will be fully licensed.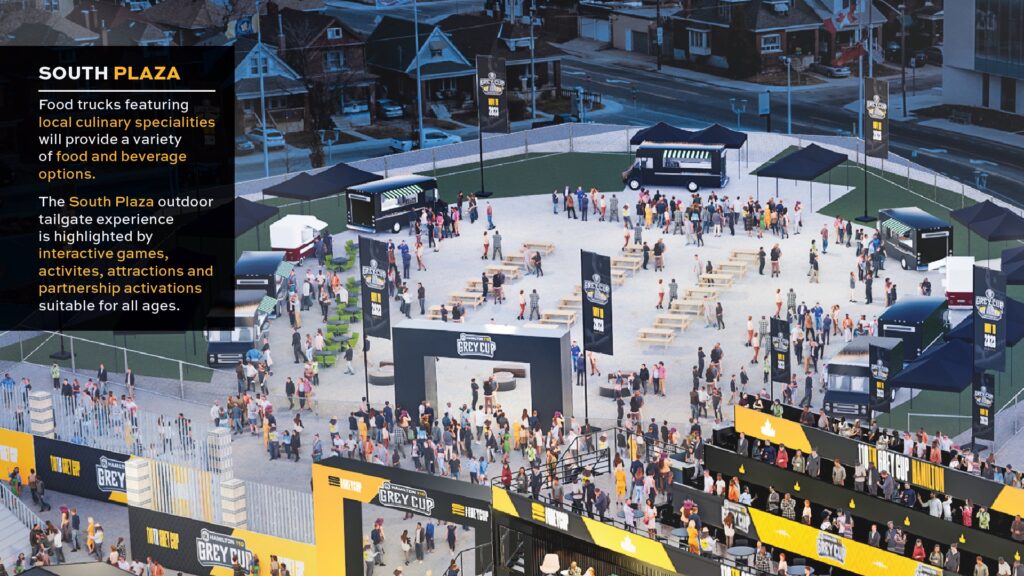 110TH GREY CUP
Sunday, Nov. 19, 6 p.m.: The big event! The 2023 Grey Cup Festival culminates in the clash of the East and West Division winners in the 110th Grey Cup at Tim Hortons Field.