The summer means we are definitely screaming for ice cream, 

so here is a list of some great options across Hamilton and Burlington that will satisfy your frozen cravings.
When the sun is high in the sky and temperatures start climbing, what could be better than heading down to one of our local ice cream parlours for a frozen treat? From the tried and true classic ice creameries of beloved family memories to modern, new-on-the-scene parlours serving unique options, ice-cream loving Hamiltonians can find it all.
Foundry Ice Cream
Foundry Ice Cream slings small-batch ice cream made from scratch. Using seasonal fruits like strawberry, orange, blackberry, and blueberry, you cannot go wrong with any of the offerings here. Put the Girl Guides' Cookies and Cream down as a must try. Find them at the Ancaster Farmer's Market on Wednesdays, the Waterdown Market on Saturdays, or at local shops around the Hamilton area. Check them out on Instagram for more details.
Willard's Ice Cream
The creators of Willard's Ice Cream value simplicity of ingredients and creativity in flavours, which means you'll find everything from classic to quirky at their store on Main Street. With flavours like Dunkaroo, orange pekoe, roasted peach, and root beer – you can bet you'll find something unique here. All the options are nut-free and there are many vegan options to choose from, too. Guess the special weekly surprise flavour for a chance to win a free cone! 942 Main St. E., Hamilton
The Purple Pony Ice Cream Shop
The vibrant lavender colours and literal purple ponies surrounding this open-concept shop make the Purple Pony Ice Cream Shop hard to miss. Located in Old Ancaster Village, this little shop specializes in classic scooped ice cream with flavours like mocha almond, black cherry yogurt, mango, bear claw, and more. 346 Wilson St. E., Ancaster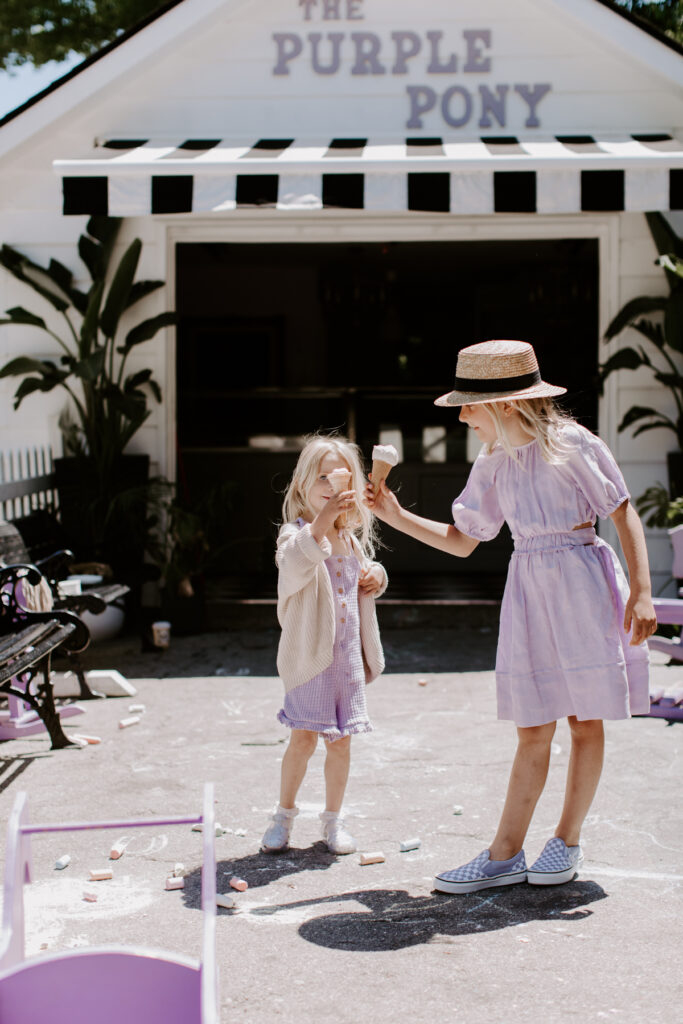 Panini & Ice Cream
Panini & Ice Cream is known for … you guessed it … paninis and ice cream. Melts, grilled cheeses, and paninis go perfectly alongside their giant topped sundaes or famous "half and halfs" (half sundae, half milkshake). These sundaes are not just delicious, they're photo-worthy with their fancy toppings and flavours like strawberry cheesecake, Reese's Pieces and cookie monster. Make sure to take a pic and make Instagram as happy as your taste buds. 1505 Main St. E., Hamilton
Diced Ice
Diced Ice introduces a new experience to the city – drum roll please – Thai rolled ice cream! This little shop is a hidden gem serving the Thai delicacy of rolled ice cream, made fresh to order and very customizable. Just choose a base and a flavour to "dice" in and enjoy. If you're not sure what to choose (or enjoy food puns), you can read the extensive menu of pre-chosen flavours like Gimme Gimme S'more, We're Mint to Be, and Candy Crush. 129 Locke St. S., Hamilton
So Chill
Based out of a cute, little ape car (check out their Insta if you're not sure what that is), So Chill is relatively new on the ice cream scene. This little ice cream vehicle travels around, mostly to private events, but sometimes you can find them set up at locations around Hamilton like Bayfront Park. Come for a delicious frozen treat and a ridiculously adorable photo op.
Chocolat on James
Chocolat on James serves up decadent soft-serve ice cream, dipped in Belgian chocolates and topped with everything from birthday cake pieces and sponge toffee to Oreos and Butterfingers. Enjoy them in a cup, waffle cone, or even a waffle bowl! 123 James St. N., Hamilton
Ancaster Ice Cream Parlour
At more than 100 flavours of ice cream, the Ancaster Ice Cream Parlour has to have one of the most exhaustive lists of flavour options in the Hamilton area. They have every flavour you can dream of, including vegan, gluten-free, and dairy-free options. The new location at the Ancaster Little League Park makes it the perfect summer evening stop. 286 Jerseyville Rd. W., Ancaster
Hutch's on the Beach
For those looking for that ultimate summer experience, Hutch's on the Beach provides the perfect atmosphere. Take in a view of the Hamilton waterfront while you enjoy summertime favourites like hotdogs, hamburgers, fish and chips, and of course, ice cream. Serving about 35 flavours of ice cream, Hutch's has something for everyone to enjoy before or after a warm, breezy stroll on the boardwalk. 280 Van Wagners Beach Rd., Hamilton
The Parlour Dairy Bar
From the food and drinks to the décor and tunes, The Parlour is a colourful blast from the past. You can start with a hotdog, poutine, smash burger or grilled cheese and finish with a sweet treat or frankly, just come for the ice cream. Build your own sundae with 20 (give or take) ice cream options and top it with all sorts of goodies like candies, sauces, fruits, and chocolates. With two locations to choose from, The Parlour gives double the chance to enjoy this retro-style dairy bar. 224 Ottawa St. N., Hamilton and 581 Concession St., Hamilton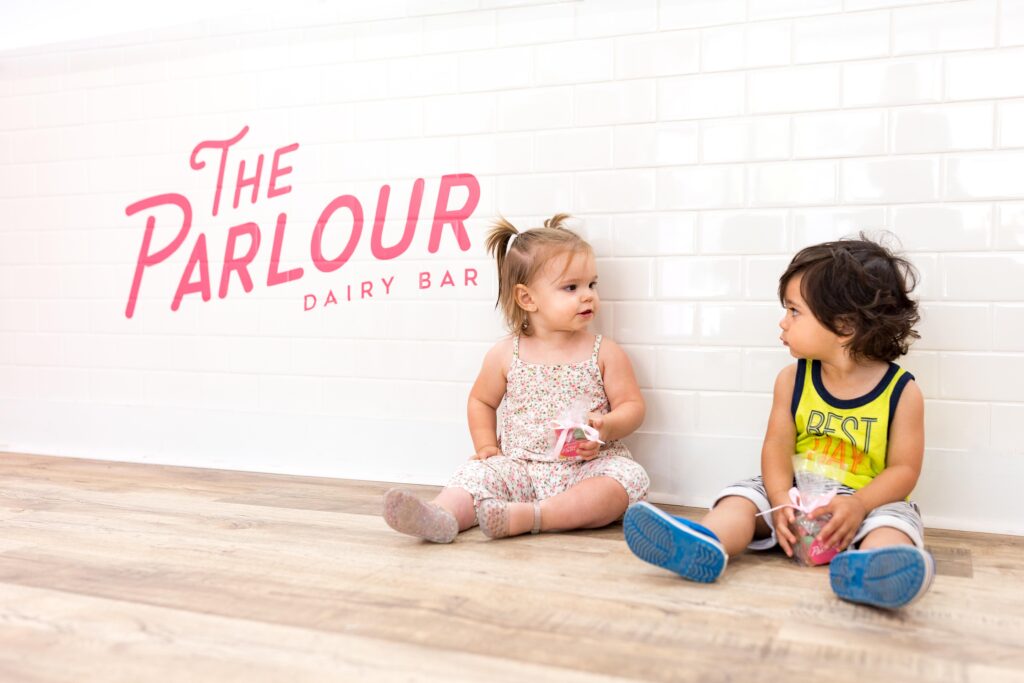 Hewitt's Dairy Bar
If you grew up in the area, we're going to bet that Hewitt's Dairy Bar and products are part of your summertime memories. Many local ice cream shops carry the popular brand, but Hewitt's Dairy Bar is the place to go to get it straight from the source. Open since 1962, the dairy bar is where they make all of their 60-plus ice cream flavours and a place where you can relive memories from a simpler time. The décor and the products haven't changed! 4210 Hwy 6, Hagersville
La Crème de la Crème Creamery Inc.
La Crème de la Crème Creamery Inc. offers something a little bit different from the traditional ice cream cone. This Burlington favourite makes it easy to enjoy a cone of soft serve with Belgian chocolate dip. What's difficult is choosing between white chocolate, milk chocolate, and dark chocolate dip options and toppings like fruity pebbles, toasted coconut, or waffle cone pieces. It's the perfect treat to savour while exploring downtown Burlington or walking along the waterfront. 389 John St., Burlington
Amica Stoney Creek Dairy
The original Stoney Creek Dairy may be gone, but you can still grab a scoop of nostalgia and ice cream at the retirement complex built where the ice cream parlour once stood. Amica Stoney Creek's in-house ice cream parlour is open to the public on weekends in the summer from 1 p.m. to 7 p.m. until the Labour Day weekend. The new dairy bar showcases memorabilia salvaged from the original Stoney Creek Dairy, which closed in 2012, including serving trays and giant milk drums, along with old newspaper clippings and historic photos. Enjoy sundaes, milkshakes and a rotating selection of 10 flavours of Central Smith ice cream, a family-run Ontario creamery, while reliving all those memories of family outings, date nights, and first jobs that happened at the dairy over its 70-year history. 135 King St. E., Stoney Creek
NEVER ENOUGH
ICE CREAM
Here are some other great options when a cold treat beckons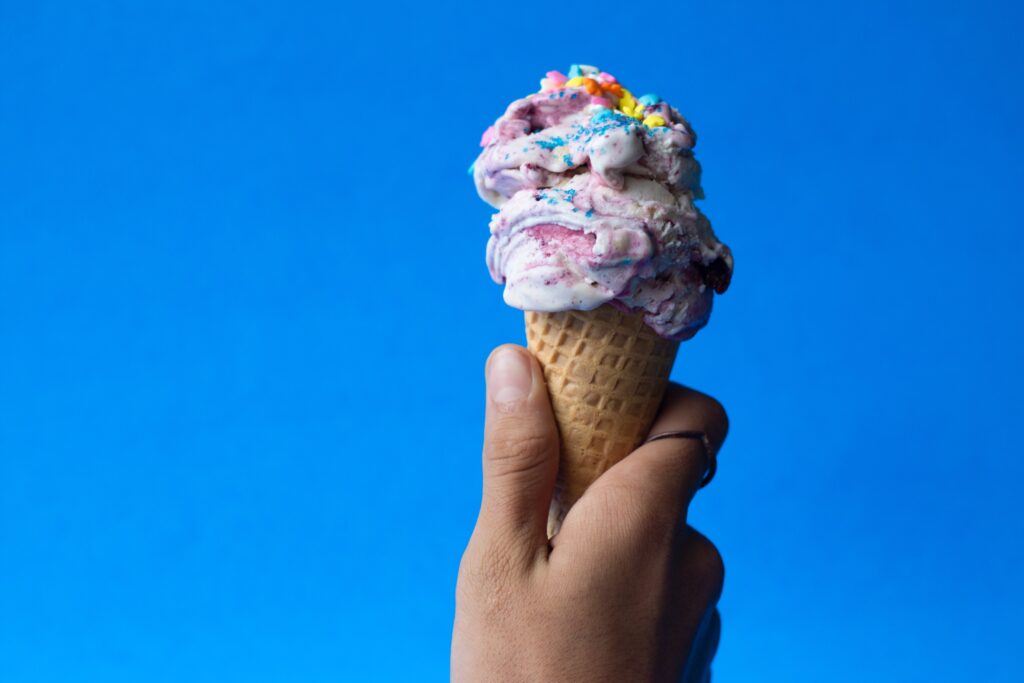 Homestead Ice Cream
3151 Homestead Dr., Hamilton
Crazy Cravings
1654 Wilson St. W., Ancaster
Tasty Scoop
100 Plains Rd. W., Burlington
1075 Wilson St. W., Ancaster
Fairly Frosted
78 Ottawa St. N., Hamilton
(Moving and reopening soon)
CC Swirls
826 Queenston Rd., Stoney Creek
Big Scoops
2 Duke St., Hamilton
Biggies
519 Upper Sherman Ave. E., Hamilton
Waterfront Scoops
47 Discovery Dr., Hamilton
A & J Sugar Bowl
124 MacNab St. N., Hamilton
eZ Rolls Ice Cream
1565 Barton St. E., Hamilton
OMG Ice Cream & Frozen Treats
1047 King St. W., Hamilton
Amo Gelato Caffe
171 Locke St. S., Hamilton
Bliss Truffles & Gelato
621 Barton St., Stoney Creek
Paradise Ice Cream Parlour
919 Upper Paradise Rd., Hamilton
Winona Ice Cream
1247 Hwy 8, Stoney Creek
Pinochi Ice Cream
1786 Stone Church Rd. E., Hamilton
Goldies Fast Food
52 James St. S., Hamilton