With the closure and impending demolition of the Hamilton City Centre, 

the historic clock that has towered over the corner of York and James will face an uncertain future. 

Its past, however, is as storied as it is fascinating.
Late in 2022, the doors of Hamilton's City Centre were closed permanently. In the clock tower, the property's historic time piece came to a stop, and it will soon be put into storage. This clock first saw James Street over 130 years ago and when it returns, inside a new urban development, the view will have changed dramatically.
The clock first appeared in 1889 at the corner of James and King William streets atop a stone tower at Hamilton's new City Hall. Its bells rang over downtown for those who couldn't see the clock face but still needed to know the time.
Back in the day, watches were not common. People relied on the clock tower to be on time for work, to meet friends, or catch a ride on the new transit system on James Street. Starting in 1892, the electric trolley swooped along at an impressive six miles an hour, a big change from the horse-drawn trolleys.
The clock's view took in the CNR station a few blocks away, now known as LIUNA Station, where many immigrants first arrived in the city. The population grew to 79,000 in 1901; 190,000 in 1931; and 266,000 by 1951. But despite there being more citizens, downtown Hamilton was not thriving as it had in earlier eras. One theory about this trend was the increase of automobiles drawing people to the suburbs and altering neighbourhoods for the benefit of vehicles, not pedestrians.
In a move to make downtown Hamilton more vibrant again, city council implemented a contentious urban renewal of epic proportions. Properties on each side of King Street were expropriated and demolition followed to make room for modern buildings throughout the city core. The fact that many heritage buildings came down was a disappointment that is still discussed, and lamented, today.
As City Hall aged, there were calls for its removal to make space for new commercial enterprises on James Street. And in 1961, down it came, along with its clock tower, after a new City Hall was built on Main Street. The demolition was carried out by Eaton's, the new property owner, which wanted to build an expansion to its department store next door. The City Hall clock and bells went into storage and wouldn't be seen for another 30 years.
During that time, the clock tower's whole block – bounded today by Bay, York, James and King – was completely changed. Jackson Square opened in 1972; the Central Library and current Hamilton Farmers' Market came along in 1980; Hamilton had a new convention centre in 1981; the Standard Life Centre came in 1983; and both the Sheraton Hotel and Copps Coliseum opened in 1985.
It wasn't until the late 1980s that the new Eaton Centre was built with the historic clock and bells in the modern tower that we see today on James Street. Unlike the original clock tower placed at the intersection of King William Street, the new one was further north on James.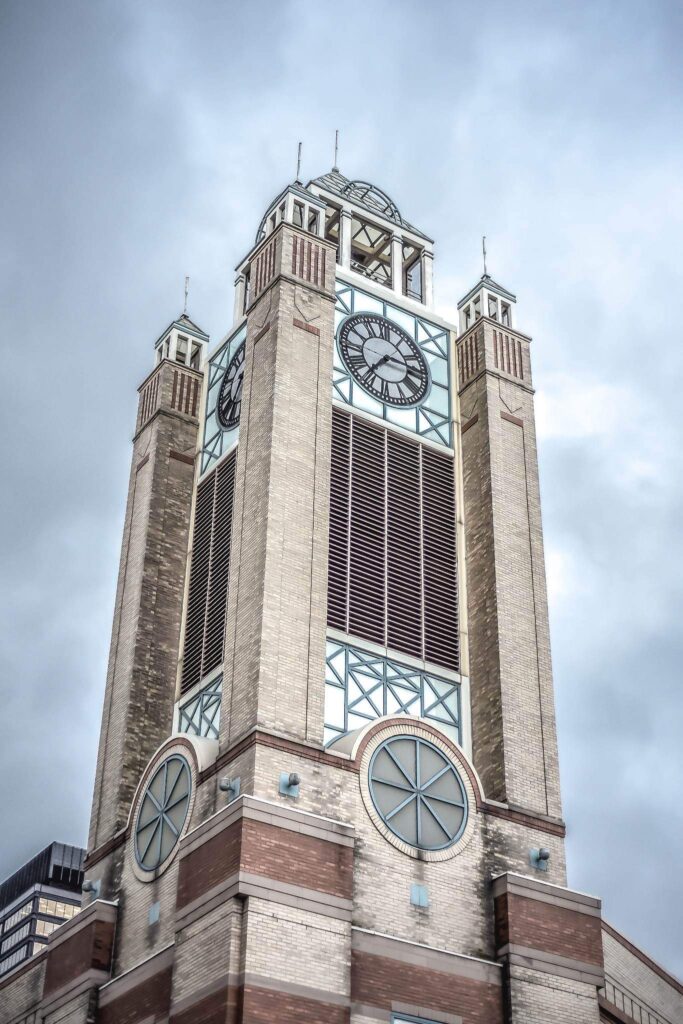 Sadly, Eaton's was in business only for another 10 years before its shopping centre in Hamilton was one of many that closed across the country. With Hamilton City Centre as its new name, the property ownership would change several times, but the appearance and function remained much the same.
Until now.
The property's new owner, IN8 Developments, will demolish the current buildings to make way for a major redevelopment with four large condo towers as well as commercial space. There will also be many new pedestrian areas and this is where the historic clock will make a comeback in several years.
The clock's view will surely be much different when it returns. Unlike its perch at old City Hall, the electric trolleys are gone but there will be lots of electric vehicles. And since the Eaton Centre days, the clock might notice that James Street has gone back to being two-way. Most of all, if everything goes to plan, there will be lots of people walking about in a setting that seeks to prioritize pedestrians over vehicles, similar to earlier times in our downtown.
The Birks Clock
In 1929, Henry Birks and Sons opened a store on the southeast corner of King and James. Outside of the building's second floor, a beautiful and massive clock hung over the sidewalk. Standing 18 feet tall and weighing one ton, it was built in England as a replica of a popular 14th-century clock. Birks was a popular meeting spot to watch the clock's animated knights chase each other at each quarter hour and listen to its 200 songs.
When Birks moved into Jackson Square in 1972, its old building was demolished, and the clock went into storage. In 1986, it was installed outside the mall's main entrance but when it stopped working, the clock returned to storage in 2007.
In 2011, the Hamilton Farmers' Market on York Boulevard was renovated and became the home of the newly restored Birks clock, also known as the Clock of the Charging Horsemen. Today, you can still watch the horsemen charge around the clock, forever to miss each other, yet always entertaining.